Never Gonna Give You Up
Rick Astley
23 hours ago
Look Away
Big Country
23 hours ago
Two Tribes
Frankie Goes to Hollywood
23 hours ago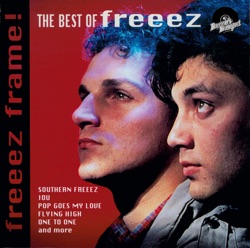 I.O.U.
Freeez
23 hours ago

Love Is a Stranger
Aretha Franklin & Eurythmics
23 hours ago
Wouldn't It Be Nice
The Beach Boys
23 hours ago
When Smokey Sings
ABC
23 hours ago
Born In the U.S.A.
Bruce Springsteen
23 hours ago
Song for Whoever
The Beautiful South
23 hours ago
Swords of a Thousand Men
Tenpole Tudor
23 hours ago
View more
Absolute 80s live
The UK's 80s radio station.
Absolute 80s is a digital radio station in the United Kingdom created for "people with an inability to act their age" that want to reconnect with the tunes of their 1980s youth.
On 4 December 2009 Absolute Radio 80s was launched replacing Absolute Xtreme. "(You Gotta) Fight for Your Right (To Party!)" by the Beastie Boys was the first song played by this station.
On 14 May 2010, it started broadcasting in mono at 64kbps on Digital One national DAB digital radio. On 29 February 2016, it upgraded to 80kbps in mono with Sound Digital multiplex, but it continued to broadcast on Digital One until the end of April 2016.
Frequencies Absolute 80s
London: DAB
Schedule
| Time | Program |
| --- | --- |
| midnight - 6 a.m. | Non-Stop Absolute 80s |
| 6 a.m. - 10 a.m. | Dave Berry's 80s Breakfast - With Dave Berry, Emma Jones, Glenn Moore & Matt Dyson |
| 10 a.m. - 1 p.m. | The 80s No Repeat Guarantee - With Martyn Lee |
| 1 p.m. - 4 p.m. | The 80s No Repeat Guarantee - With Richie Firth |
| 4 p.m. - 8 p.m. | 80s Drive - With Leona Graham |
| 8 p.m. - midnight | Non-Stop Absolute 80s |
| Time | Program |
| --- | --- |
| midnight - 6 a.m. | Non-Stop Absolute 80s |
| 6 a.m. - 10 a.m. | Dave Berry's 80s Breakfast - With Dave Berry, Emma Jones, Glenn Moore & Matt Dyson |
| 10 a.m. - 1 p.m. | The 80s No Repeat Guarantee - With Martyn Lee |
| 1 p.m. - 4 p.m. | The 80s No Repeat Guarantee - With Richie Firth |
| 4 p.m. - 8 p.m. | 80s Drive - With Leona Graham |
| 8 p.m. - midnight | Non-Stop Absolute 80s |
| Time | Program |
| --- | --- |
| midnight - 6 a.m. | Non-Stop Absolute 80s |
| 6 a.m. - 10 a.m. | Dave Berry's 80s Breakfast - With Dave Berry, Emma Jones, Glenn Moore & Matt Dyson |
| 10 a.m. - 1 p.m. | The 80s No Repeat Guarantee - With Martyn Lee |
| 1 p.m. - 4 p.m. | The 80s No Repeat Guarantee - With Richie Firth |
| 4 p.m. - 8 p.m. | 80s Drive - With Leona Graham |
| 8 p.m. - midnight | Non-Stop Absolute 80s |
| Time | Program |
| --- | --- |
| midnight - 6 a.m. | Non-Stop Absolute 80s |
| 6 a.m. - 10 a.m. | Dave Berry's 80s Breakfast - With Dave Berry, Emma Jones, Glenn Moore & Matt Dyson |
| 10 a.m. - 1 p.m. | The 80s No Repeat Guarantee - With Martyn Lee |
| 1 p.m. - 4 p.m. | The 80s No Repeat Guarantee - With Richie Firth |
| 4 p.m. - 8 p.m. | 80s Drive - With Leona Graham |
| 8 p.m. - midnight | Non-Stop Absolute 80s |
| Time | Program |
| --- | --- |
| midnight - 6 a.m. | Non-Stop Absolute 80s |
| 6 a.m. - 10 a.m. | Dave Berry's 80s Breakfast - With Dave Berry, Emma Jones, Glenn Moore & Matt Dyson |
| 10 a.m. - 1 p.m. | The 80s No Repeat Guarantee - With Martyn Lee |
| 1 p.m. - 4 p.m. | The 80s No Repeat Guarantee - With Richie Firth |
| 4 p.m. - 7 p.m. | 80s Drive - With Leona Graham |
| 7 p.m. - 10 p.m. | Friday Night 80s - With Claire Sturgess |
| 10 p.m. - midnight | Non-Stop Absolute 80s |
| Time | Program |
| --- | --- |
| midnight - 9 a.m. | Non-Stop Absolute 80s |
| 9 a.m. - noon | The Frank Skinner Show - With Frank Skinner, Emily Dean & Alun Cochrane |
| noon - 4 p.m. | Richie Firth - With Richie Firth |
| 4 p.m. - 6 p.m. | The All 80s Weekend - With Leona Graham |
| 6 p.m. - 8 p.m. | Tony Hadley's 80s Party - With Tony Hadley |
| 8 p.m. - midnight | Non-Stop Absolute 80s |
| Time | Program |
| --- | --- |
| midnight - 9 a.m. | Non-Stop Absolute 80s |
| 9 a.m. - noon | The Jason Manford Show - With Jason Manford |
| noon - 4 p.m. | Richie Firth - With Richie Firth |
| 2 p.m. - 4 p.m. | Leona Graham - With Leona Graham |
| 4 p.m. - 9 p.m. | The Absolute 80s Chart - With Martyn Lee |
| 9 p.m. - 11 p.m. | Forgotten 80s - With Matthew Rudd |
| 10 p.m. - midnight | Non-Stop Absolute 80s |
| 11 p.m. - midnight | Non-Stop Absolute 80s |
Top Songs
Last 7 days:
1. Jochen Flach - Fire the Cannons (1812 Overture)
2. Spandau Ballet - True
3. 2WEI - Survivor (feat. Edda Hayes)
4. Sofi Tukker - Drinkee
5. The Beach Boys - Wouldn't It Be Nice
6. Ramones - Blitzkrieg Bop
7. Orchestral Manoeuvres In the Dark - Enola Gay
8. M.O.P. - Ante Up (Robbin Hoodz Theory)
9. Young-Holt Unlimited - Soulful Strut
10. David Rowe - From London Truly
Last 30 days:
1. Spandau Ballet - True
2. Sofi Tukker - Drinkee
3. 2WEI - Survivor (feat. Edda Hayes)
4. Orchestral Manoeuvres In the Dark - Enola Gay
5. Jochen Flach - Fire the Cannons (1812 Overture)
6. The Beach Boys - Wouldn't It Be Nice
7. M.O.P. - Ante Up (Robbin Hoodz Theory)
8. A G - McLovin
9. Young-Holt Unlimited - Soulful Strut
10. Ramones - Blitzkrieg Bop
Related Podcasts
Contacts
Website:&nbsp
planetradio.co.uk/absolute-80s
Address:&nbspOne Golden Square London W1F 9DJ
Telephone:&nbsp020 7434 1215
E-mail:&nbspradioplayer@bauermedia.co.uk
Social networks
Share
Comments